We are halfway through ! We have started this incredible adventure  two and a half years ago and we should be able to contemplate Spirit of Sion, ready for liftoff, in about 30 months ! Until then, we still have plenty of work…
Early September 2020 we start building the fuselage, the complexity of the assemblies is inversely proportional to the detailed way instructions are given. Some appears only on schematics or are not written at all, some are extremely summarized. Very interesting to see how Van's adapt its instructions to the understanding level of the builders which has (fortunately) improved since chapter one. One must really be careful not to make mistakes or jump a step.
After having built the four main fuselage bulkheads including the wing attach ones, the assembly of the mid fuselage's section and its bottom skin starts. Then comes the front section from the firewall to the forward wing attach bulkhead. Both sections are finished in December, they take center stage in the workshop ready to be mated, the tailcone a little farther… It feels like being in Seattle or Toulouse at the Boeing or Airbus assembly line ! (all proportions kept) The structures are simply amazing…
The fuselage side skins is the next chapter. The 4 main fuselage longerons come straight and must be curved in a banana shape to follow the flanks. This operation seems impossible when looking at the longeron thickness and their L shape but with some elbow grease and the right tools the 4 longerons are bent within 1/16th of an inch from the template shape. Then we take care of the side skins themselves, they form a cone joining the curved bottom fuselage. Fortunately my friend Laurent is around and his help more than necessary ! We manage to bend the 4 skins to the required shape using aluminum angle, pliers, wooden block, a lot of elbow grease and the clever instructions. Vasita helps me to rivet all those parts. We know now what it takes to be a contortionist… Very happy with the result but good for the osteopath !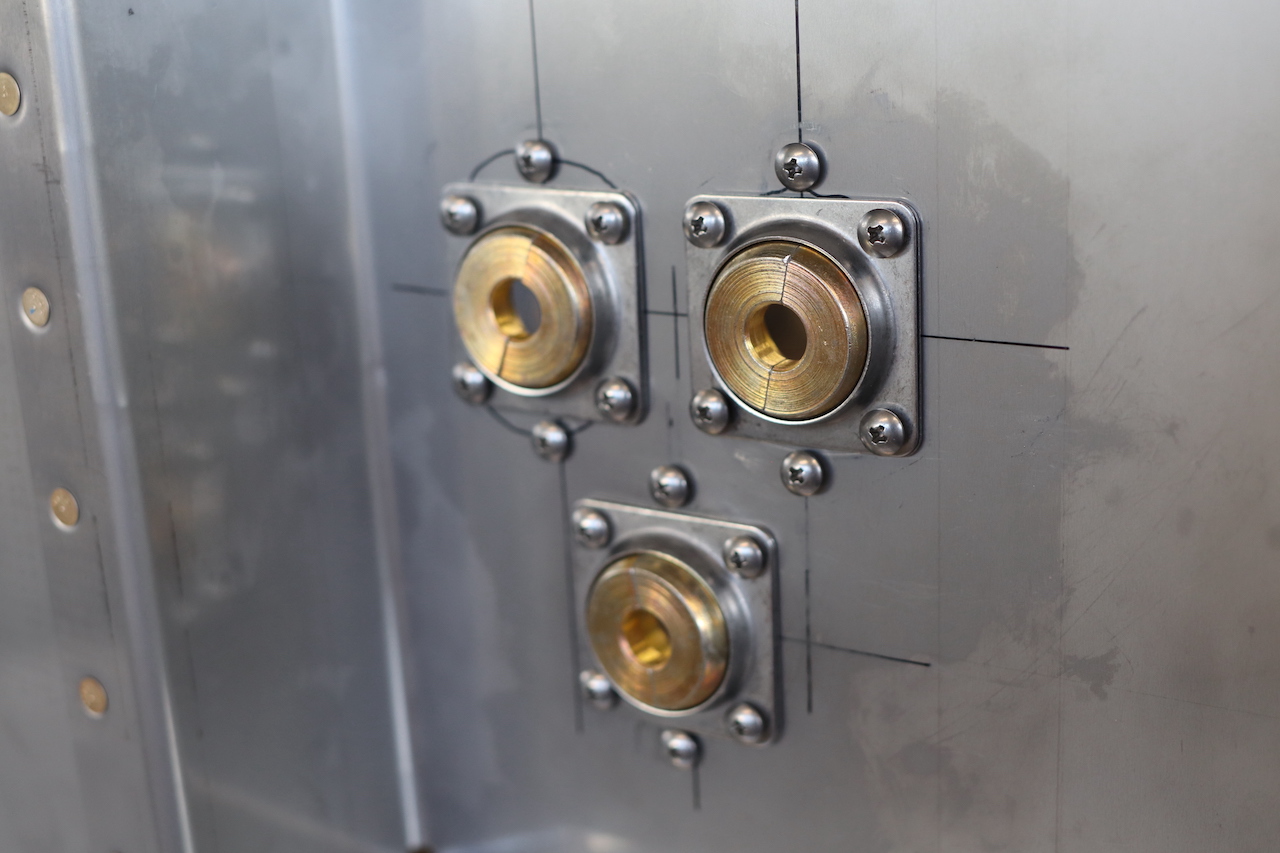 Early February the big moment has arrived, the tailcone built a year and a half ago, is mated to the forward fuselage. One step back to contemplate our work and realize how massive is this flying machine. Just impressive !
What's next ? Some chapters on the baggage compartment, the internal floors and panels then it will be time to start installing the first systems : rudder, brakes, fuel system, flight controls and later the fiberglass fuselage top.
The next 6 months are looking captivating !